New Government Funding for a Waking Watch Replacement
The implications of new government funding for a Waking Watch replacement
The recent announcement by the UK government, allocating an additional £18.6 million for the installation of a common alarm system to replace Waking Watch measures, brings forth new opportunities and implications for building owners.
The fund builds on the £35 million Waking Watch Relief Fund (WWRF) which was focused on high-rise residential buildings (above 17.7 metres) with a Waking Watch in place (at cost to leaseholders) due to unsafe cladding, and the £27 million Waking Watch Replacement Fund 2022, which expanded eligibility to residential buildings of any height with a waking watch in place due to any fire safety defect.
Addressing Fire Safety Concerns:
For building owners operating in residential buildings, fire safety is of paramount importance. The provision of the new funding allows these stakeholders to address fire safety concerns more comprehensively, irrespective of the source of Waking Watch costs.
Compliance with Evolving Fire Safety Strategies:
The National Fire Chief's Council (NFCC) guidance on transitioning from a 'Stay Put' to a 'Simultaneous Evacuation' fire safety strategy carries significant implications. By investing in state-of-the-art technology, building owners can ensure their properties are in line with recommended fire safety protocols, demonstrating a commitment to the well-being of occupants and compliance with industry best practices.
Flexible Integration and Adaptability:
REACH Wireless is ideal to replace the traditional Waking Watch with a more efficient and reliable solution. With its flexible integration and adaptability, REACH seamlessly integrates our advanced fire detection systems into existing infrastructure, making the retrofitting process easy. By minimising disruptions to business operations during the transition from Waking Watch to the common alarm system, our solution ensures a smooth and hassle-free implementation. With REACH, you can trust that your fire detection needs are met with utmost convenience and efficiency, providing a safer environment for all.
REACH Wireless is well-suited to solving installation challenges, making it an ideal choice for high-rise residential buildings. Adding to an existing wired fire system without having to re-decorate and with minimal disruption to residents makes it solve the specific challenges of a high-rise environment.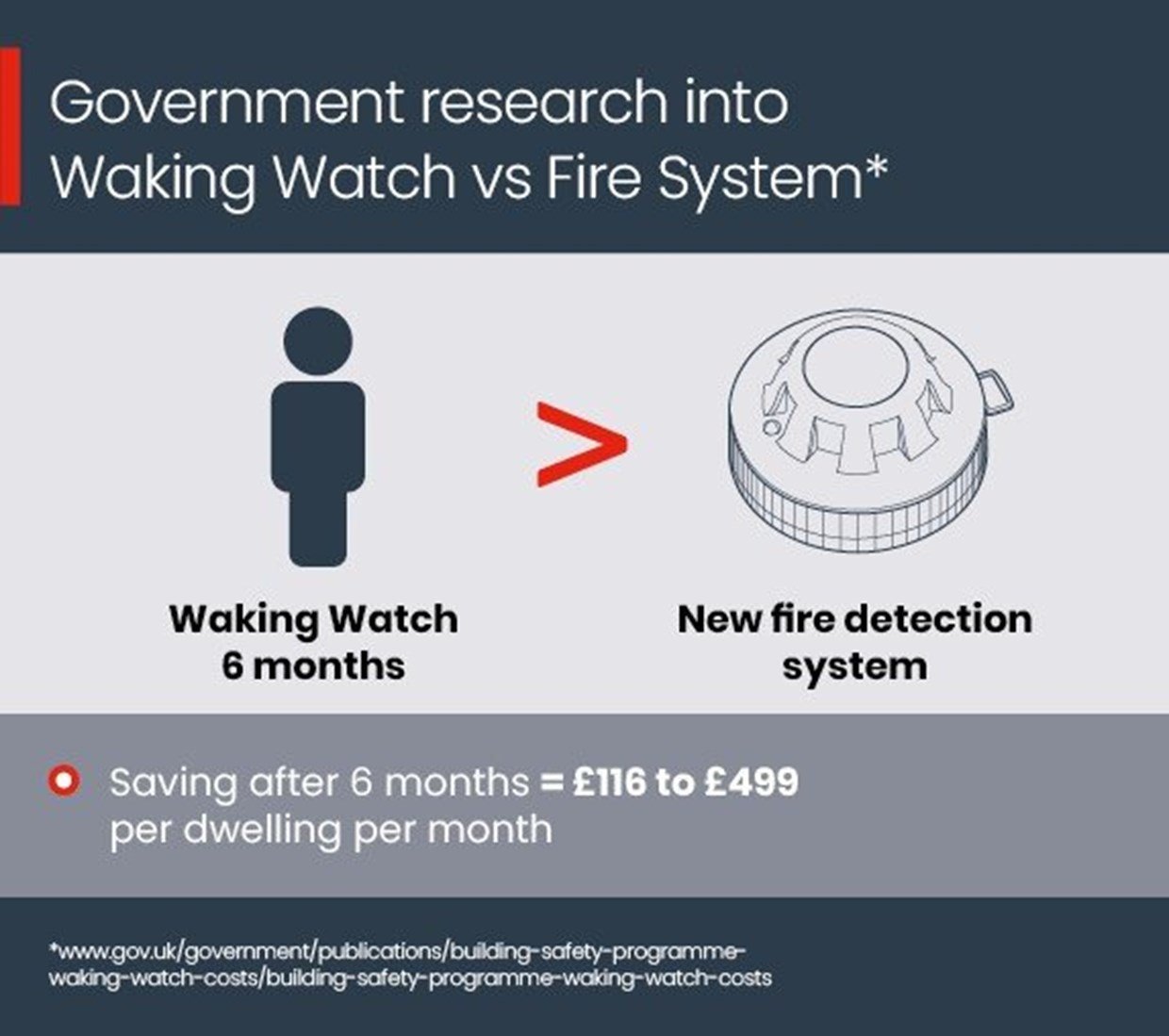 Of the data provided to MHCLG (The ministry of Housing Communities and Local Government), the cost of employing one individual undertaking Waking Watch duties exceeds the average cost of installing a fire alarm system in three to six months, depending on the hourly rate charged. And some buildings require more than just one Waking Watch individual, increasing the cost further.
The new funding allocated by the UK government for the replacement of Waking Watch with a fire alarm system creates significant opportunities for building owners to enhance fire safety measures. REACH is the ideal alternative to a Waking Watch. And if you want to learn more about switching from a Waking Watch, then speak to our sales team here: solutions@apollo-fire.com