The risk assessment and BS5839 standards dictate the type, quantity, and placement of devices for fire detection and alarm systems. However, there's room within these guidelines to enhance sustainability. By carefully considering system design and product choices, you can create a fire detection and alarm system that not only meets safety requirements but also:
Reduces carbon footprint
Supports the circular economy
Ensures material sustainability and compliance
Reducing Carbon Footprint
Reducing the carbon footprint of fire detection and alarm systems involves several key steps:
Sustainable Manufacturer Selection: Opt for products from manufacturers committed to sustainability.
Modular Systems: Choose modular systems with:
Purposeful Functionality: Prioritise required functionality, avoid unnecessary features as they increase embodied carbon.
Sustainable Design: Consider sustainability in the systems design, product choice, and functionality.
Address Indirect Carbon: Factor in indirect carbon emissions, such as those caused by false alarms.
Sustainable Products with Carbon Measurement and Reduction: Select products that measure carbon emissions and have ongoing efforts to their environmental impact.
To manage and reduce our products' carbon footprint, we've conducted internal Life Cycle Assessments (LCAs) for key products. This has allowed us to understand where to focus on carbon reduction. To communicate carbon footprint externally, we use TM65 forms, an industry tool used when EPDs (Environmental Product declarations) are unavailable. While not as comprehensive as EPDs, TM65 forms bridge the gap for products such as fire detectors which do not currently have any EPDs allowing manufacturers to communicate a carbon footprint for products. We can provide this for any product upon request.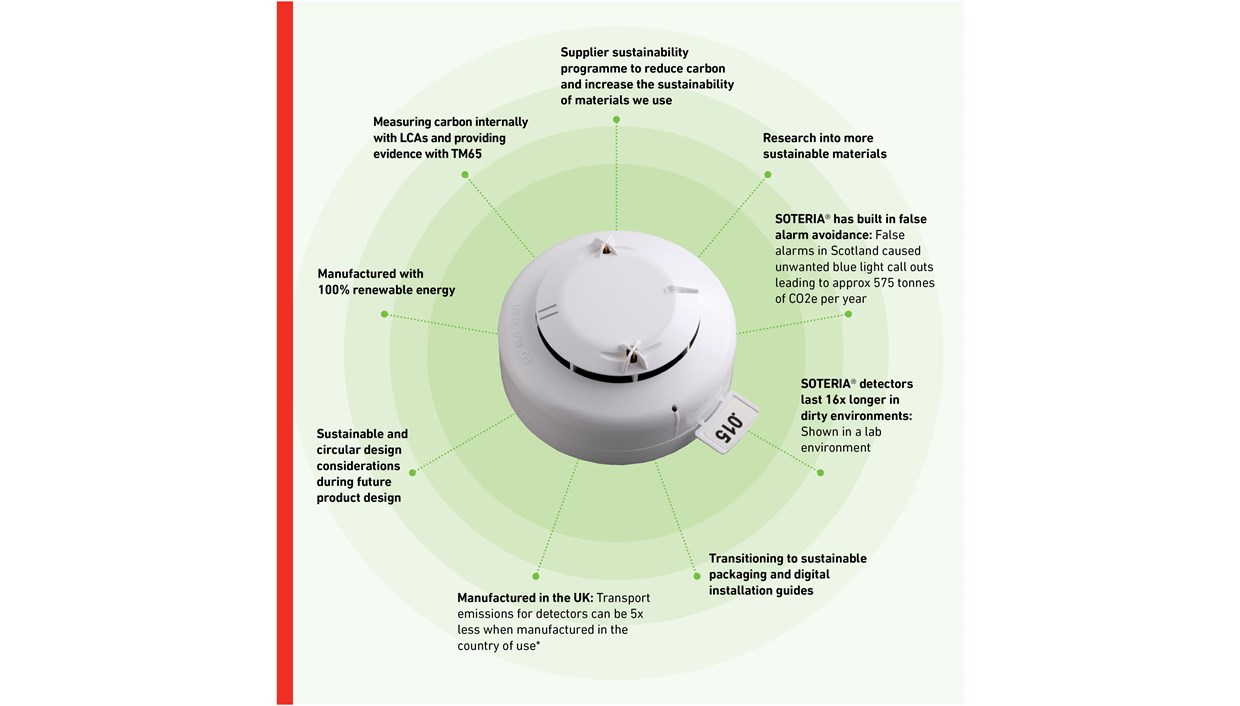 Supporting the Circular Economy
Apollo is Eliminating waste and pollution
Designing out waste e.g. (redesigning a PCB, reducing material usage by 57% and waste by 85%.)

Reducing scrap
Manufacturing with zero to landfill
Keeping products and materials in use
Backward compatibility (which allows the reuse of bases and therefore stops 50 tonnes of plastic being used annually on bases)

Long life products (better in dirty environments)
Recycling products though WEEE programs
Regrind material from post moulding waste in products up to 25%
Transitioning to recycled packaging
Researching into bio/ recycled material

We are seeing more questions on sustainable material choices, going further than just the legislation, driven in part by sustainable building certification such as the living buildings red lists and material schedules created by different members of the value chain.

Material choices for fire detectors are already a high technical standard with requirements such as flammability tests like horizontal & vertical burning (V0).

Technical plastics are difficult to recycle, can contain hazardous chemicals and often have a higher carbon footprint.

However, at Apollo we are moving fast on the materials with less technical requirements such as packaging and installation guides. We are working with our suppliers and undertaking research into the more sustainable material which also meet our high technical need.