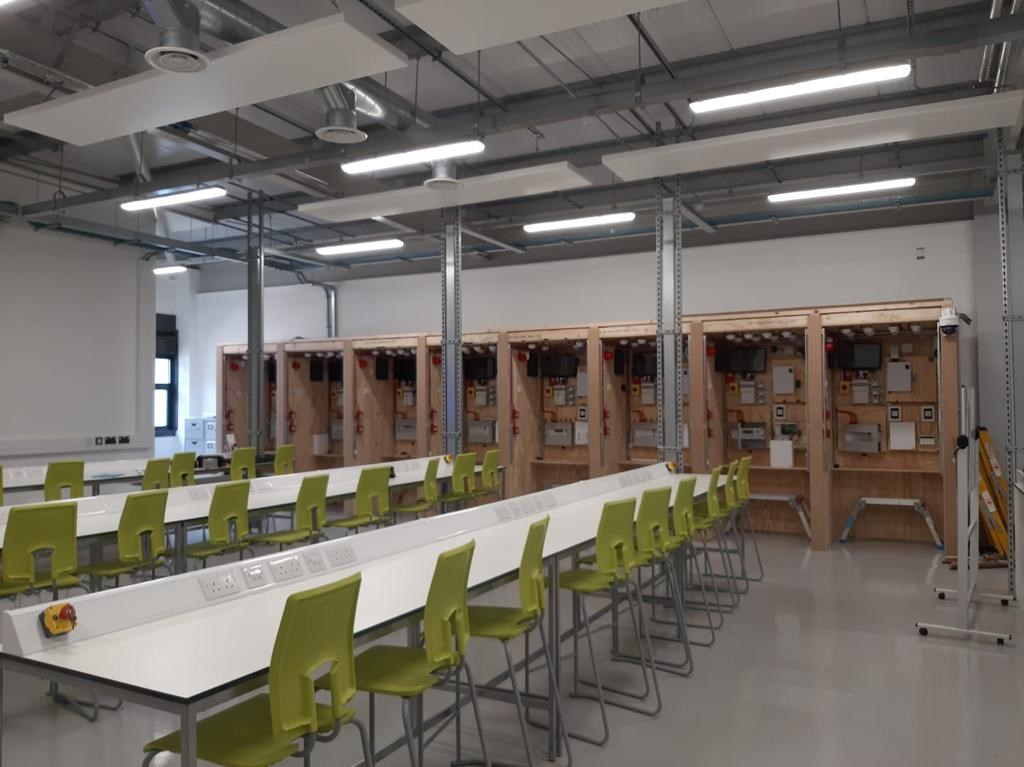 A Partnership with Hopwood Hall College
We are thrilled to share the news of our sponsorship of Hopwood Hall College's Fire, Emergency, and Security Systems (FESS) apprenticeship Suite, the largest of its kind in the UK.
Located in Rochdale, Hopwood Hall College is dedicated to cultivating high-quality engineers via the 3 year FESS apprenticeship scheme. Their newly launched training suite boasts 23 bays with conventional and addressable loops, including over 1000 Apollo products, ranging from detectors and manual call points to bases, modules, and the latest hybrid wireless range, REACH Wireless.
This collaboration reflects our deep commitment to shaping the future of fire safety education by providing the next generation of professionals with first-class equipment and resources.
We recognise that the safety of people and property relies on the knowledge and skills of both existing and future fire safety professionals. We are honoured to sponsor Hopwood Hall's training suite and to provide the next generation of our industry with a strong foundation for their careers.
Billy Gillchrist, Apprenticeship Lead at Hopwood Hall, expressed his enthusiasm for the partnership saying "I am thrilled that we have partnered with Apollo. Together, we are transforming the learning experience for our apprentices here at Hopwood Hall. We're now equipped with state-of-the-art tools and technology, positioning our learners at the forefront of industry knowledge and expertise.
"In addition to the equipment, Apollo's commitment to education extends to the delivery of Continuing Professional Development (CPD) courses directly at our college. Several times a year, their experts will be on-site, enriching the learning experiences of our students and employers throughout the Greater Manchester area.
Looking ahead, we are incredibly optimistic about the future of this partnership and sponsorship. With Apollo by our side, we are poised to set new standards in fire safety education, empowering our learners to excel in their careers."
If you're interested in training courses run by Apollo, or if you're a training provider seeking support, please get in touch to discuss how we can collaborate at apollo.training@apollo-fire.com.