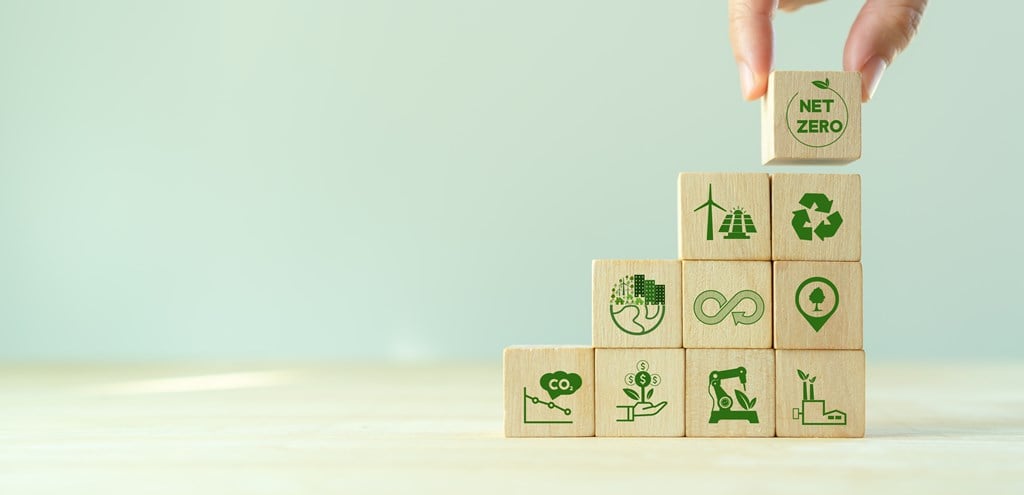 Understanding a company's Net Zero Credentials
How do you really know when a company is committing to a more sustainable future? Understanding this is increasingly important as being sustainable is gradually becoming a requirement and this requirement is not only of the company or product itself, but its entire value chain.
With increasing pressure from legislation such as the climate change act (UK legislation committing to Net Zero) as well as global and societal demand for a deeper focus on sustainability, more and more companies are publishing their strategies and plans for how they are 'going green' and making their products more sustainable. But with this comes the rise of 'green washing' and questioning "how do you really know when a company is committing to a more sustainable future?" and when they are presenting a misleading message which lacks substantial evidence. Understanding this is increasingly important as being sustainable is gradually becoming a requirement and this requirement is not only of the company or product itself, but its entire value chain.
When looking at a company's sustainable credentials, there are three key things you should look for:
Ambition – e.g. setting Net Zero targets that cover all of/the majority of the companies' emissions
Action – e.g. defined steps on how the company or product is becoming more sustainable
Accountability – e.g. support from leadership and consistent reporting on sustainability actions, via websites or formal reports
The UK has a green claims code which businesses should comply with when making sustainable claims. However, without knowledge on Net Zero, Carbon Neutral, Embodied Carbon, and Scopes 1, 2 and 3, it can be hard to judge if a company or product's claims are true, valid and all-encompassing. Within this article is an introduction to these topics and how Apollo is addressing them.
Scopes 1 and 2
Before diving into scope 3 it's important to understand the context surrounding Scope 1 & 2. Sustainability in businesses has often referred to measuring, managing, and reducing emissions (carbon and other greenhouse gases) in a company's own operations (Scopes 1 and 2). With many Net Zero targets being a 90% decarbonisation of Scope 1 and 2 from the baseline year. This mean's reducing the greenhouse gases associated primarily with:
Scope 1 – heating and company vehicles
Scope 2 – electricity
At Apollo, we have already taken action to reduce emissions associated with Scopes 1 & 2:
Installed renewable energy on-site with solar panels
Purchasing renewable energy through certified renewable energy programs
Working on becoming more energy efficient with changes such as switching to LED lighting in our facilities
Although these changes are a good start, Scope 1 & 2 only account for a small number of a company's emissions. In manufacturing, this can be as little as 1-3% of the company's total emissions with Scope 3 taking up the rest. Therefore, Net Zero targets for Scope 1 and 2 are not covering the entire company or products' carbon footprint. What's more, working on Scope 1 & 2 only, can have different levels of impact on a product's embodied carbon. This depends on the level of manufacturing done on-site at a company, and where you are in the product value chain. For example, when Apollo moved to green energy, we reduced our products' manufacturing-related emissions, however, if a company that doesn't manufacture its products, only works on Scope 1 & 2 they do not have much, if any, impact on reducing their products' embodied carbon.
Scope 3 and Embodied carbon
It can be more difficult to reduce scope 3 emissions as companies don't have direct control over emissions created from components and processes that are outsourced. These emissions are key to fully see a product's climate impact.
What is Scope 3? It is the indirect emissions in the upstream and downstream value chain of a business. It includes categories such as purchased goods and services, transportation and distribution, business travel and employee commute as well as waste, use and end of life. These can make up to 97-99% of a company's whole emissions and the new UK Transition Plan Taskforce Disclosure Framework says, "any emissions reduction target should consider Scope 1, 2, and 3 emissions".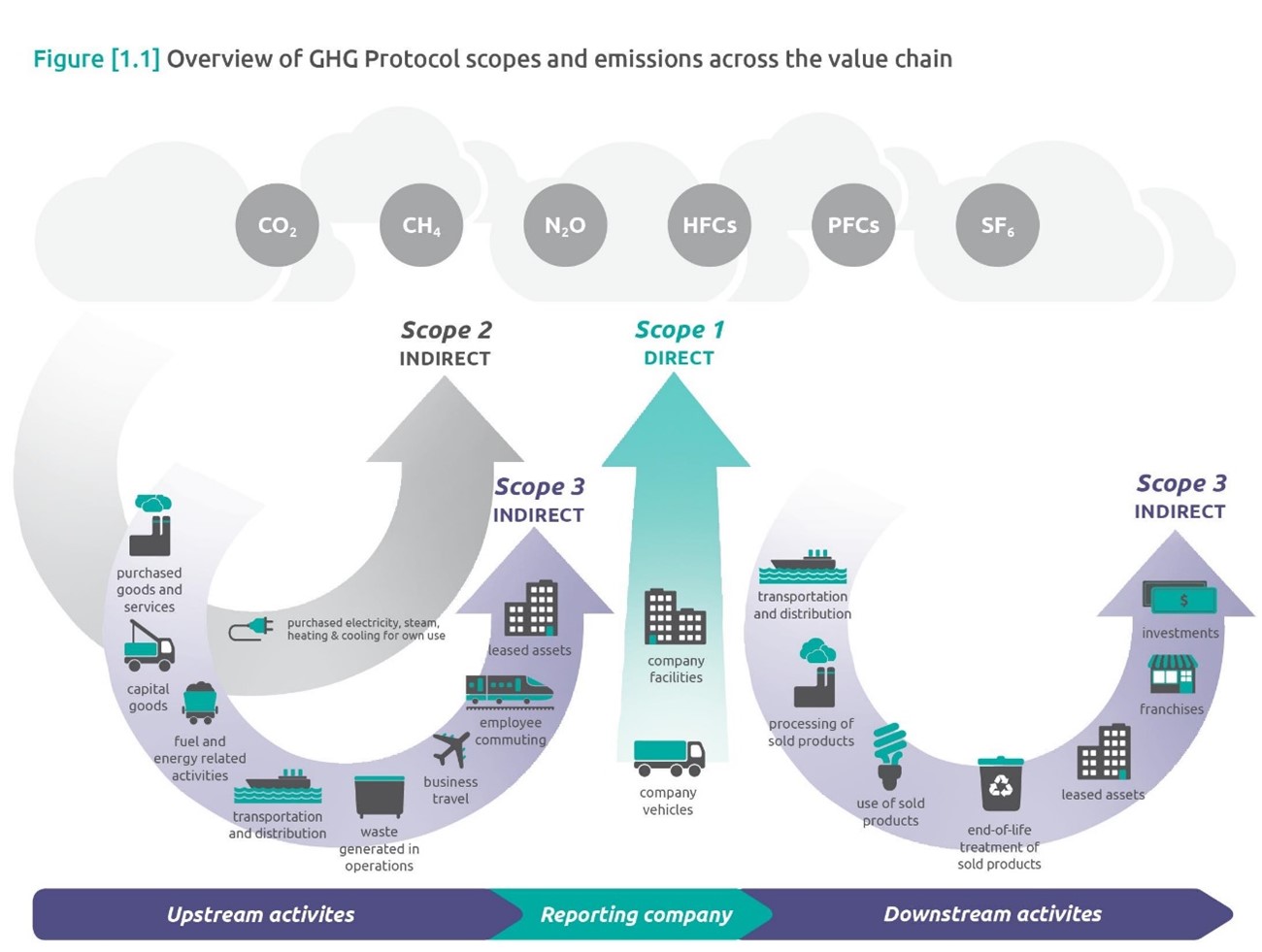 Greenhous Gas Protocol (2011). Corporate Value Chain (Scope 3) Accounting and Reporting Standard, Page 5
Embodied Carbon: the complete environmental impact of a product from cradle to grave (excluding operational energy use in buildings). This includes the emissions associated with the extraction of raw materials, manufacturing of the product, transportation as well as the installation and end of life. Embodied carbon can be measured at any level from a single detector to an entire building containing all the products and materials it is made of. It is thought that the embodied carbon in buildings make up 11% of global emissions.

The Footprint Company. Embodied Carbon: What is it, and why does it matter?
What is Apollo doing to address Scope 3 and embodied carbon
We recognise that we have, as most companies do, still a way to go to reduce our Scope 3 emissions to reach Net Zero by 2050 at the latest. However, it is also important we celebrate the steps we a have taken already and keep up the momentum.
Purchased goods and services/ raw material supply (our largest emitter):
A supplier sustainability programme to decarbonise our supply chain
Finding more sustainable material for products (particularly the plastic) and packaging (particularly dust covers)
Reducing waste in manufacturing
Installation Guides going digital
Transport:
Logistics emissions are being measured, understood and decarbonised in line with Net Zero by 2050
To decrease the impact of the end of life
Using circular economy principles, an alternative end of life is being investigated
To decrease impact across multiple areas of scope 3 and embodied carbon:
Sustainability and circular principles are being incorporated into design decisions
Better analysis and reporting are being investigated
Engagement and empowerment across the business on these topics
Net Zero V Carbon Neutral
If you are familiar with sustainability, you may have noticed that none of the actions to reduce emissions has been to purchase carbon credits (or offsets). This is because the purchasing of carbon credits does not reduce emissions and the absolute reduction of emissions has been described as necessary for keeping global warming below 1.5C.
Companies use carbon credits for two reasons:
To become NET ZERO – carbon credits are allowed to offset the final up to 10% of residual emissions that can not be abated after at least 90% decarbonisation of emissions from a company's base year. For most companies who include or have set targets for Scope 3, achieving this goal is many years away with the UK legislation being by 2050, however with the amount of work needed to reduce emissions by 90% this needs to be started as soon as possible.
To become Carbon Neutral – for this, you measure your entire company's or products' emissions and offset all your emissions with carbon credits. This can easily be achieved today (by most companies) and encourages positive climate action that offsets a company's negative effects. However, without decarbonisation towards Net Zero as well as being carbon neutral it will fail in the long term to stop climate change, in the UK's new transition taskforce plan they have said "[companies] should prioritise decarbonisation through direct abatement over purchasing carbon credits". With the carbon credits currently being hard to verify and sometimes misleading many companies like Apollo are choosing, for now, to invest in programmes and projects to decarbonise their own value chain towards Net Zero instead of buying carbon credits of various standards and claiming Carbon Neutral.
Read about how Apollo is addressing (Climate Change); Scope 3, embodied carbon and Net Zero, here.