What is a Communication Protocol?
We explain what a Communication Protocol is, the two different types, and why Apollo chooses to use an Open Protocol.
Fire systems use Communication Protocols. But what does that mean?
People use 'languages'; electronic products use 'protocol'
It refers to the way in which electronic products communicate
Apollo Protocol allows communication between the Fire Alarm Panel and fire loop devices
Since our first protocol was developed in 1986, our protocol has evolved to enable more features, addresses, variations of reporting and behaviour.
Today our addressable devices run on three levels of protocol: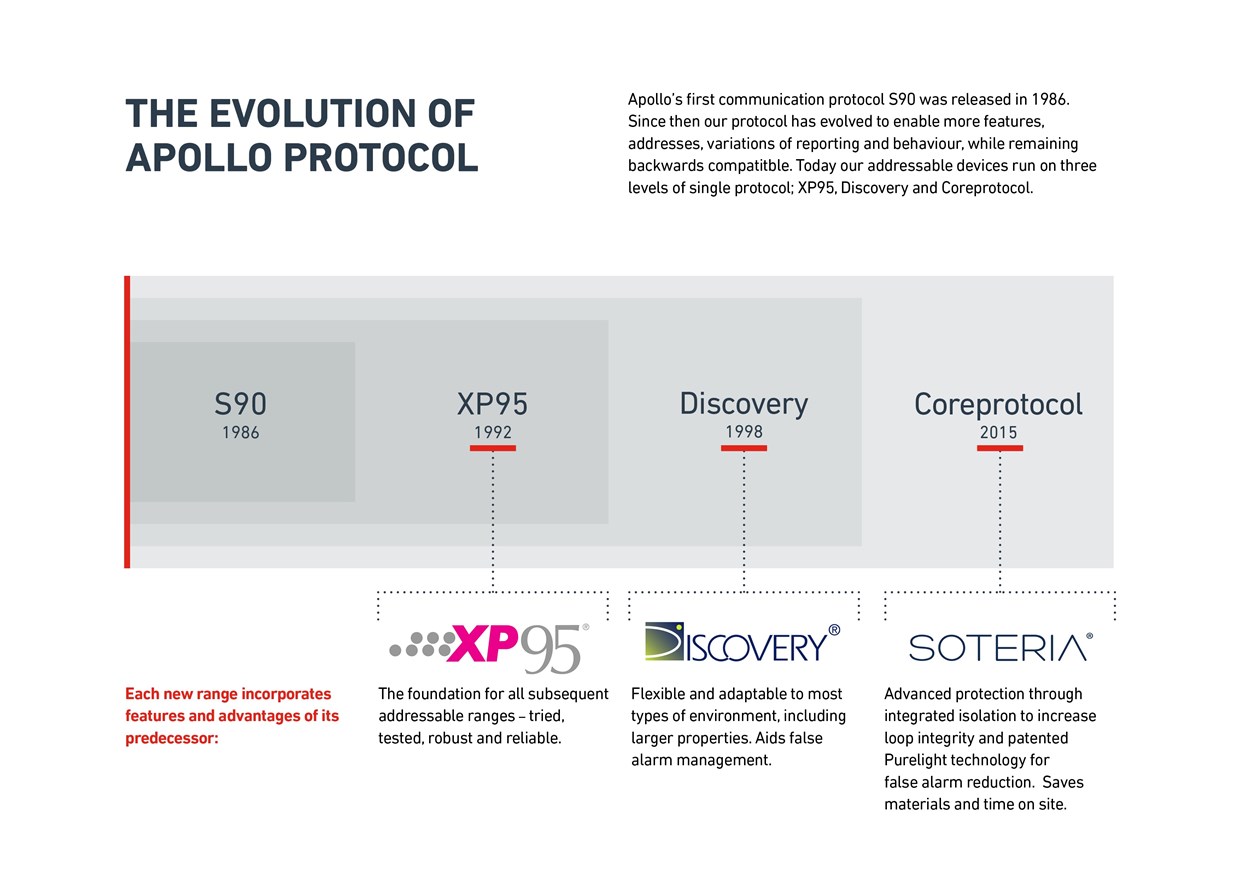 We're open about protocol
Just like us, open protocol detector manufacturers share their protocol with selected third parties such as panel manufacturers to allow them to design compatible equipment using the same language.
Closed protocol manufacturers create their own detectors and panel that use their own protocol and do not share this with third parties. The protocol is only used by trained, approved specific installation companies only.
Advantages of Open Protocol
Offers the building owner more freedom when it comes to sourcing products or an installation company as there is the ability to choose between numerous compatible manufacturers
Allows the installer to choose whichever products are suitable for the project
The building owner is able to choose whichever company they want for ongoing maintenance or adding to the system, enabling them to shop around for the best price
When innovative products are released, and the building owner would prefer this solution to protect their building (like our flush mounted Soteria Dimension) having an open protocol system makes it easier to change manufacturer. Meaning they have more flexibility to choose the solution they want, not the ones they are tied into
Opting for a closed protocol solution can be tempting for the building owner as the initial capital outlay for the system is often less than the open protocol manufacturer. However, the building owner is then locked into one company for manufacture, supply and maintenance of the system which is often charged at premium prices and is very tricky to get out of. That's why before making a choice on which manufacturer(s) to go with, it's important to consider the Total Cost of Ownership of the system – the cost for the fire system throughout its whole life, including ongoing maintenance costs etc.