Climate Change
Our aims and commitments for a safer, cleaner, healthier, and more sustainable future.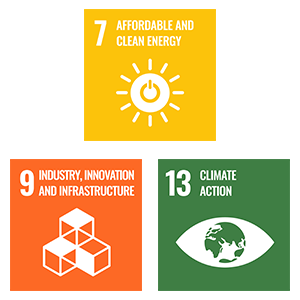 Our Climate Change commitments contribute towards UNSDGs:
SDG 7: Affordable and clean energy
SDG 9: Industry, innovation and infrastructure
SDG 13: Climate action
Our Commitment
We have set long and short term, achievable goals to ensure we are doing all we can to battle climate change.
By 2040 we aim to be Net Zero for scopes 1 & 2, and to be Net Zero across all three by 2050 at the latest.
Already we are...
ISO 14001 compliant
100% reliant on renewable energy at our head office in Havant
Using solar energy, from the panels installed at our head office.
Reducing our CO2 emissions. Our scope 1 Green House Gas (GHG) emissions have reduced our CO2 by over 20% from FY 19/20 - FY 21/22
Read more on our 'Little Wins'...
Scope 1 - Fuel we burn ourselves
"The organisation's direct green house gas emissions"
Scope 2 - Energy we consume
"The organisation's emissions associated with the generation of electricity, heating/cooling, or steam purchased for own consumption"
Scope 3 - GHG Protocol Value Chain
"All other indirect emissions from activities of the organisation, occurring from sources that they do not own or control"
Our Climate Change Targets by the end of FY 2025
Supplier Sustainability Programme
With the vast majority of our emissions in purchase goods and services, we will be working with our suppliers who represent 80% of our spend. This will allow us to gain a better understanding and reduce our supply chains negative sustainability impacts and carbon emissions. We have already started this by introducing EcoVadis to our top suppliers.
Decarbonise our own operations and controlled logistics
By looking at energy efficiency and use of renewable energy sources.
Moving towards a more sustainable plastic
Due to the nature of our business, the majority of our emissions come from plastics. We are conducting research into more sustainability plastics to identify and understand the suitability of them. Reducing our plastics by just 30% would reduce our emissions by ~3600T CO2e annually.
Climate Change considered within new product development
Reduction of CO2e will be considered during the design process and design decision
Electric Vehicle Fleet and solar powered EV charging points at head office
By 2023 we will have a fleet of fully electric vehicles. We have already installed two EV charging points and will have installed an additional bank of chargers by the end of 2022.
Packaging
We are not only looking at the products but the materials we use to send them out in. Our first step is looking at the plastic dust covers we currently use to a plastic that is 100% recyclable and easily recycled globally.
Better data collection and moving towards reporting
Using improved methods of data collection around the carbon emissions of our company and products. We have started to measure the company carbon footprint and conducting lifecycle analysis of our products for internal decision making. Find out more on our Green Planet Project...